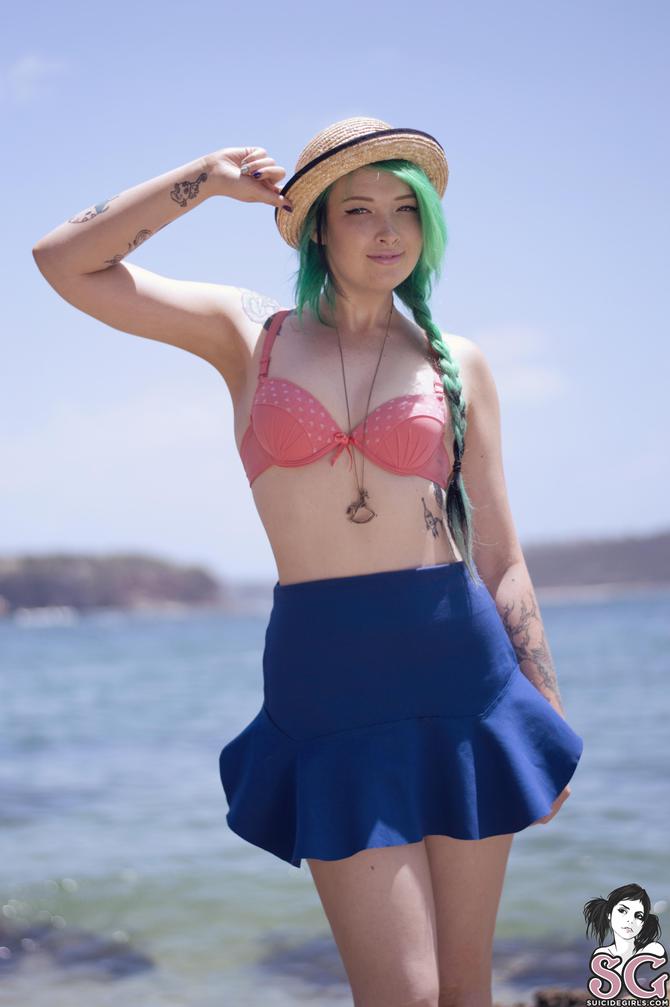 https://suicidegirls.com/girls/pebblezink/

Vital Stats:
HEIGHT: 5'6"
BOOZE: I AM A COMPLETE DRUNKARD
SEX: IF WE GET ALONG AND THERE'S A SPARK
KINK FACTOR: I'LL TRY ANYTHING ONCE, ESPECIALLY IF YOU BEG FOR IT.
CIGARETTES: NOPE
DIET: OMNIVORE
POLITICS: POLITICS, WHO CARES?
STATUS: SINGLE
BODY TYPE: SLENDER
I AM LOOKING FOR: WHOEVER COMES ALONG
TELEVISION: AAAARGH REAL MONSTER ABSOLUTELY FABULOUS ADVENTURE TIME AMERICAN HORROR STORY ANGEL ANGRY BEAVER AQUA TEEN HUNGER FORCE ARCHER ARTHUR BLACK ADDER BLACK BOOKS BUFFY BUMP IN THE NIGHT COUNT DUCKULAR DARIA DAVINCIS DEMONS DEATHNOTE DEXTER ELFEN LIED FRISKY DINGO FULL METAL ALCHEMIST FUTURAMA GAME OF THRONES GRAVITY FALLS I.T CROWD IT'S ALWAYS SUNNY IN PHILLIDELPHIA LOST GIRL METALOCALYPSE MIGHTY BOOSH ROCKOS MODERN LIFE SECRET DIARY OF A CALL GIRL SKINS SPACED SPONGEBOB
FILMS: ALICE IN WONDERLAND DISNEY ANCHORMAN A NIGHT AT THE ROXBURY BEAUTY AND THE BEAST BEDKNOBS AND BROOM STICKS BEETLEJUICE CHITTY CHITTY BANG BANG CLOSER CORALINE CORPSE BRIDE CRUEL INTENTIONS DEATH AT A FUNERAL DESPERADO DROP DEAD FRED EDWARD SCISSOR HANDS EL MARIACHI E.T FACTORY GIRL FERRIS BUELLERS DAY OFF FIERCE CREATURES HARROLD AND MAUDE HOOK HORRIBLE BOSSES HOT FUZZ KUNG FU HUSTLE LABERYNTH LAND BEFORE TIME LIFE AS A HOUSE MARY POPPINS MONSTERS INC, 1O THINGS I HATE ABOUT YOU, MOULIN ROUGE NEVER ENDING STORY NIGHTMARE BEFORE CHRISTMAS PARTY MONSTER PROBLEM CHILD QUEEN OF THE DAMNED RICHIE RICH ROMEO AND JUILET SHAOLIN SOCCER SHAUN OF THE DEAD SLEEPY HOLLOW STUDIE GHIBLI TOMB RAIDER UNDERWORLD WEDDING CRASHERS WEDDING SINGER WHITE OLEANDER WRIST CUTTERS A LOVE STORY ZOMBIELAND ZOOLANDER
BOOKS: BLOODLINES DELTORA QUEST HARRY POTTER HOBBIT VAMPIRE ACADEMY WITCH CHILD
ARTIST: AUDREY KAWASAKI MARK RYDEN
VIDEO GAMES: ALEXX THE KID BRUTAL LEGEND FINAL FANTASY LEAGUE OF LEGENDS LEMMINGS POKEMON RED, BLUE, YELLOW, SILVER SIMS SMASH BROS WONDERBOY
MY IDEA OF A GOOD TIME: BARS, AFTER PARTIES, HOME BY DAWN.
SUPPORT LOCAL MUSIC. GO TO A SHOW.
WHEN I GO OUT, ANYTHING CAN HAPPEN.
INTO: BACON BEER BEING DRAMATIC CLAYMATION CLIMBING CREATING CRYING CUTE STUFF DANCING DRINKING FANTASY FIGURINES FLAILING FRESHLY SQUEEZED ORANGE JUICE HAIR COLOUR HATS HIPPOS KARAOKE LIVE MUSIC LOVE PAINTING PARKS PIERCINGS SMILES STABBY THINGS TATTS VIDEO GAMES WATERCOLOUR PENCILS
5 THINGS THAT I CAN'T LIVE WITHOUT: AIR ART SUPPLIES INTERNET LAUGHING SOCIAL CONTACT
I SPEND MOST OF MY FREE TIME: BEING CURIOUS BEING FABULOUS COLOURING MY HAIR DRINKING ENTERTAINING
MUSIC: AECADE FIRE ALANIS MORRISETTE ALEXIS ON FIRE ALKALINE TRIO BILLY TALENT BLINK 182 BRIGHT EYES CITY AND COLOUR DEATHCAB FOR CUTIE ESCAPE THE FATE FIGHT LIKE APES FOO FIGHTERS GAGA GARBAGE HEAVENS HOLE IAMX JEFF BUCKLEY LANA DEL REY LOVE 90'S MARGOT AND THE NUCLEAR SO AND SO'S MARYLIN MANSON NIN NO DOUBT NOFX OFFSORIBG PRESIDENTS OF THE UNITED STATES REEL BIG FISH ROONEY SHE WANTS REVENGE SYSTEM OF A DOWN THE XX YEAH YEAH YEAHS