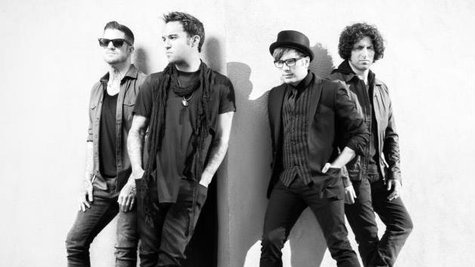 When Fall Out Boy returned after a five-year hiatus with their new album, Save Rock and Roll, they didn't know if the fans would still be there for them. Well, not only were the fans still there, they were pretty excited, too: Save Rock and Roll debuted at #1 on the Billboard album chart. Fall Out Boy bass player and lyricist Pete Wentz says the band is happy -- but surprised -- about their accomplishment.
"We definitely didn't expect this kind of reception. It's cool," Pete tells ABC News Radio. "I think at the least, we kind of expected, like, a little bit of a cult following to kind of come back, and it's kind of been cool to see the return happen the way it has."
As for why the band decided to reform after so many years away from the scene, Pete says it was because he and singer Patrick Stump finally came up with some tunes they felt were worthy of the Fall Out Boy name.
"I think [the new music] was the driving force behind it," Pete explains. "Because me and Patrick had written a couple times over the break, and some of the stuff we wrote was cool but it just didn't feel like Fall Out Boy." But then, Pete says, he and Patrick came up with the songs "Where Did the Party Go" and "Just One Yesterday" -- both of which appear on Save Rock and Roll -- and they knew they were on the right track.
"They were like more nuanced and a little bit more compelling," Pete tells ABC News Radio. "So at that point, I called [drummer] Andy [ Hurley ] and Patrick called [guitarist] Joe [ Trohman ] and we all met up in New York City and kind of talked the idea through."
Pete says the album's title, Save Rock and Roll , is tongue-in-cheek, but he feels that it accurately describes what they feel is needed in music today . "The title and the album itself is kind of our take on what rock 'n roll should be doing," he says. "Like, rock 'n roll should be ambitious, but it should be fun. And that's basically what we attempted in this album, and I think that it's something that is missing a little bit in...bands playing today."
Part of the fun and ambition of Save Rock and Roll is the wide range of guest artists who appear: rapper Big Sean , rock legend Elton John , and '90s alt-rock queen Courtney Love . Pete says they reached out to those artists after careful consideration of who their influences are, and what the album needed.
"I think that people don't really understand how influenced we are by hip-hop, so that was really important to us to get a guest the song kind of commanded," Pete says of Big Sean's cameo on the track "The Mighty Fall." As for Elton, Pete says they're fans of his, but they've always been "an aspirational band," so they wanted to see if they could get someone that famous on the track.
Courtney, meanwhile, appears on the song "Rat a Tat." Pete says, "I think that it's great to have Courtney Love singing on music again. She has a great voice and a kind of fantastic take on the world, and I think it was important for us to get that on there."
The next leg of Fall Out Boy's North American tour kicks off May 14 in Milwaukee.
Copyright 2013 ABC News Radio