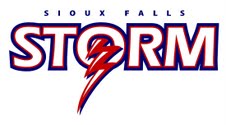 SIOUX FALLS, SD (KWSN)- The Sioux Falls Storm (5-3) is in uncharted territory. At this point of the year, the 2013 season has been full of peaks and valleys. This is unusual for a team that is so attuned to the top. With a record of 5-3, the Storm is only one game out of the top spot in the league. But the Storm and its fans are a custom to being the team that is chased…not the team doing the chasing.
After losing only one game through the last two seasons, the Storm has lost three of the first eight in 2013. All of them on the road. Every loss, however, has been close. The average margin over those three games has been six points. The first loss of the season came at the hands of the Nebraska Danger on March 2nd in Grand Island, NE. The Storm will get their chance at revenge this Saturday night at the Sioux Falls Arena. The Danger happened to be the top team in the league, holding the best record at 6-2. The Storm is toting a 28-game home win streak. If this sounds familiar…it should.
Two weeks ago, the Storm put their 27-game home streak up against the, then, top team in the league, the Colorado Ice. The Storm, with the help of a sell-out Sioux Falls crowd, kept the streak alive by defeating the Ice, 45-43.
Last week the Storm traveled to Chicago and suffered a last-second loss to the Chicago Slaughter. That loss puts Nebraska at the top spot in the league…and they're coming to Sioux Falls.
This game has more storylines than a movie. The Storm avenging their first loss of the season, while trying to continue a home winning streak that dates back to 2010…and it just happens to be against the top team in the IFL. This has all the makings of an instant classic.
"Another big game at the Storm Shelter. We have the best team in the league coming into our house and we need a full house!" stated Storm Head Coach, Kurtiss Riggs.
The Gas Stop is the official Sponsor of Saturday Night's game. A 7:05pm kickoff is scheduled but come early to check out the 2013 line of Storm apparel.
Tickets are on sale for this weekend's home game against the Nebraska Danger. Tickets and more info are available through the Sioux Falls Arena box office. Game time is Saturday, May 4th, at 7:05pm.
Courtesy: Sioux Falls Storm