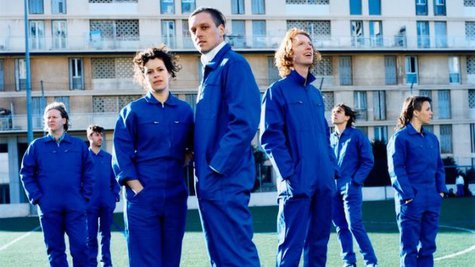 With concert tickets so expensive these days, who are the acts out there who are definitely worth spending your hard-earned cash on? The ones who deliver night after night, and give you your money's worth no matter what? Rolling Stone magazine polled industry insiders, writers and musicians to find out, with rock's biggest names taking most of the spots on the magazine's newly-released list of the "50 Greatest Live Acts Right Now."
Arcade Fire takes the #4 spot on the tally, with the magazine giving the band kudos for producing "emotionally apocalyptic indie rock [that] can be as grand as U2 without losing any of its chaotic intensity." The magazine also names the highlight of any Arcade Fire show as the moment when the crowd sings along to "Wake Up," from their 2004 debut album, Funeral .
Radiohead comes in at #7 on the list for being "the only band in rock that can leave nearly every hit song out of the setlist, and still see 20,000 fans walk out of an arena happy."
Rounding at the top 10 are Jack White at #8, Rage Against the Machine at #9 and My Morning Jacket at #10. The magazine praises that band as the "quintessential 21st century rock and roll psychedelic band, fusing decades of rock history into exploratory jams and anthems, while peppering every set with excellent covers."
Other rock acts that made the list include U2 , The Black Keys , Metallica , Red Hot Chili Peppers , Muse , Foo Fighters , Rush , Mumford & Sons and Green Day . Bruce Springsteen , by the way, is number one.
You can check out the full list at RollingStone.com .
Copyright 2013 ABC News Radio