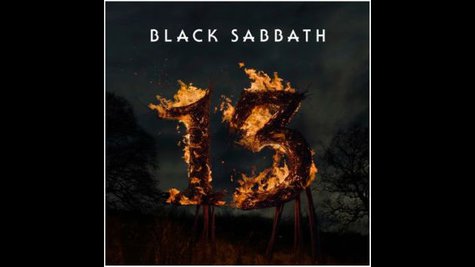 A scary new attraction inspired by Black Sabbath 's ominous, bone-crunching new album, 13 , will make its debut next month as part of the 2013 edition of Universal Studios Hollywood's annual Halloween Horror Nights event. Black Sabbath: 13 3D is a three-dimensional maze that will transport the theme park's visitors to a dreary, apocalyptic world featuring battlefields, insane asylums and graveyards.
"We were all really excited when Universal Studios Hollywood approached us about doing a 3D 'Halloween Horror Nights' maze based on our music," says Black Sabbath frontman Ozzy Osbourne in a statement. "I can't wait to walk through it on opening night in September."
The Black Sabbath: 13 3D maze will boast a variety of fright-filled creatures and images based on the dark lyrics to the songs from 13 as well as from some of the heavy-metal legends' classic tunes. As Sabbath music blasts throughout the attraction, guests will encounter such chilling sights as Lucifer and his wife, bloody corpses and pools filled with radioactive water.
Halloween Horror Nights 2013 kicks off September 20 at Universal Studios Hollywood, which is located in Universal City, California. The event will feature a variety of other scary attractions, including rides inspired by the AMC television show The Walking Dead and the recent fright film and Evil Dead: Book of the Dead . For more information, visit HalloweenHorrorNights.com/Hollywood .
Copyright 2013 ABC News Radio