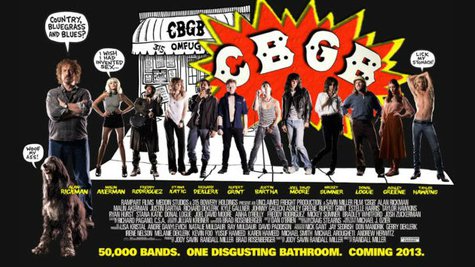 The official trailer for CBGB , the film about the legendary New York City rock club of the same name, has been posted online.
The trailer showcases actor Alan Rickman as Hilly Kristal , the entrepreneur who opened the club in 1973, and teases a number of acts, including Talking Heads , The Police , Blondie and The Ramones . The trailer concludes with the words: "50,000 bands and 1 disgusting bathroom."
The cast also includes Malin Ackerman as Blondie's Debbie Harry , Joel David Moore as Joey Ramone , Mickey Sumner ( Sting 's daughter) as Patti Smith , Foo Fighters drummer Taylor Hawkins as Iggy Pop , Rupert Grint as Dead Boys guitarist Cheetah Chrome , and Kyle Gallner as Lou Reed .
The club closed in 2006, but the spirit lives on in the annual CBGB Music & Film Festival . The CBGB movie will premiere during this year's festival, which runs from October 9 through October 13 in New York City. The film will hit theaters on October 11.
According to a post on Omnivore Recordings' Facebook page, a 20-track CBGB: Original Motion Picture Soundtrack album will be released on October 8.
Copyright 2013 ABC News Radio