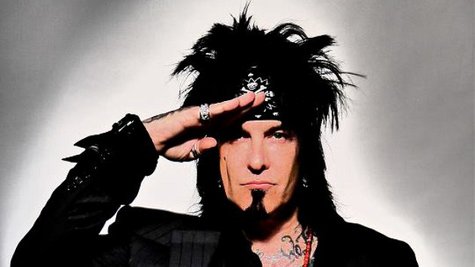 Nikki Sixx is happy with the way that Sixx: A.M. 's next album is coming together. The Mötley Crüe bassist posted a message on his Facebook page on Saturday, noting that he's made some serious progress recording tracks for his side group's follow-up to 2011's This Is Gonna Hurt .
"We have a little ways to go to finish off the whole album but were zeroing in on what the first single will be," he writes. "These songs are very unique. [Frontman] James Michael , [guitarist] DJ [ Ashba ] and myself feel we have topped ourselves but in the end you will be the ones who make that decision."
The rocker adds that the group has already chosen the title and artwork for the release, which is expected to arrive sometime this fall. "Photo sessions, videos, going over album cover concepts and mapping out release dates are all hovering above our heads now," he notes. "The excitement is growing and things looks great for us to play live at some point."
Sixx will have another month to work on the release before he links up with Mötley Crüe for another Las Vegas residency this fall. The band is set to play 12 concerts at The Joint in the Hard Rock Hotel & Casino from September 18 to October 6.
Copyright 2013 ABC News Radio