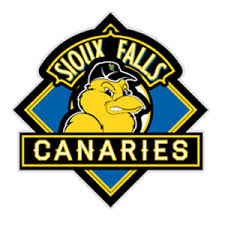 SIOUX FALLS (KWSN)– The Sioux Falls Canaries will host their first ever "#SocialMediaNight" this Friday when the Birds take on the Winnipeg Goldeyes.
Followers of the Canaries Facebook and Twitter pages will be privy to exclusive promotions throughout the ballgame. They will able to participate in contests for special prizes, such as autographed memorabilia and a seat upgrade. Fans are encouraged to follow the Canaries on Twitter at https://twitter.com/canaries and on Facebook at https://www.facebook.com/sfcanaries.
Friday night also marks the final Friday Fireworks of the season. The postgame fireworks show is sponsored by Orthopedic Institute and All-Star Fireworks.
The Canaries Facebook page has gained over 2,100 likes this season, while their Twitter page has nearly 1,800 followers.
Gates open at 6 p.m., and first pitch is at 7:05 p.m. Tickets are available at the Canaries box office or by visiting their website, www.sfcanaries.com. For more information, contact the Canaries at (605) 336-6060.
Courtesy of Sioux Falls Canaries