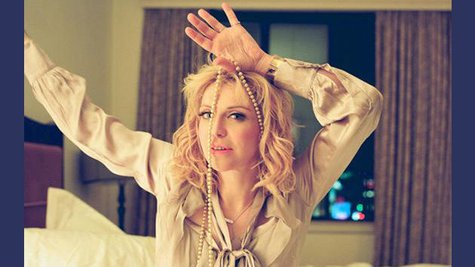 Courtney Love is the latest artist to participate in MySpace's new video series, Five Minutes to the Stage , which offers fans an insight into what artists do as they prepare for a show.
Recorded moments before her July 27 concert at the City National Grove of Anaheim in Anaheim, CA, the singer shows off some of the wardrobe that she wears during her concerts, and explains that she no longer experiences any pre-show jitters. "I've been on stage for 20 years, [so there's] not a lot to be nervous about," she notes. "I'm in my 40s [and] I'm happy…with my age and who I am."
The singer adds that while she's adopted 19th century French writer Gustave Flaubert 's philosophy "to be wild at work and bourgeois in life," she feels differently when it comes to performing. "The times…when you're on stage and you don't feel any pain and you don't feel any pleasure and you don't want to…that just describes me to a tee," she explains.
Love is currently hard at work on two other projects at the moment: a follow-up to her 2004 debut solo album, America's Sweetheart , and a memoir. While firm release dates haven't been announced for either, the book is expected at end of December and the album will hopefully arrive sometime next year.
Copyright 2013 ABC News Radio