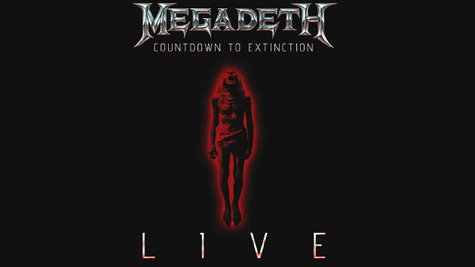 Next month, Megadeth will release Countdown to Extinction: Live , a CD/DVD set that documents a performance from the group's tour celebrating the 20th anniversary of that classic album. Frontman Dave Mustaine says it was an easy decision to put out a live album to honor the milestone, and that he was happy to have founding bassist David Ellefson along for the ride.
"David Ellefson had just come back and we did the Rust in Peace anniversary tour which was fun, because those songs are pretty monstrous songs," he tells ABC News Radio. " Countdown was our most successful record, you know, it doesn't have the most aggressive songs in it but it was the most successful."
Mustaine adds that while he personally enjoyed the Countdown to Extinction 20th anniversary tour, some fans told him they felt other Megadeth albums were more deserving of a tour like that.
"That's the beauty, as well as the problem, with having so many records," he explains. "[When] you have a big catalog of stuff, it appeals to so many people ,and no one's gonna like all the songs, and very few will. Someone's gonna have one song they like better than others. It's like with me, I'm a die-hard Led Zeppelin fan but I don't like 'Hot Dog.'"
Countdown to Extinction: Live will be available on September 24. Recorded at the Fox Theatre in Los Angeles on December 7, 2012, the package features Megadeth ripping through the entire album, as well as performances of "Holy Wars" and "Hangar 18" from 1990's Rust in Peace; "Peace Sells," from 1986's Peace Sells... But Who's Buying? ; and "Trust," from 1997's Cryptic Writings , among others.
While the set will be available separately on CD, DVD and digital formats, a deluxe package featuring both the CD and Blu-ray of the release will also be offered.
Copyright 2013 ABC News Radio