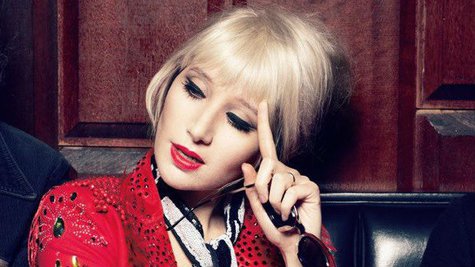 Earlier this month, a snippet of Karen O 's new solo track, "The Moon Song," was featured in a trailer for Her , an upcoming film by director Spike Jonze . Now, the Yeah Yeah Yeahs frontwoman is giving us the chance to listen to the entire song.
Karen O has just posted a stream of the full track on Warner Brothers' Soundcloud page , which you can also download for free.
According to IMDb.com , Her is about "a lonely writer [who] develops an unlikely relationship with his newly-purchased operating system that's designed to meet his every need." The film's cast includes Joaquin Phoenix , Chris Pratt , Amy Adams , Rooney Mara , Olivia Wilde , and the voice of Scarlett Johansson .
Karen O isn't the only rocker to contribute music to Her : Arcade Fire has signed on to write the film's score. This isn't the first time Spike Jonze has tapped the musicians to soundtrack his films. Arcade Fire provided a still-unreleased new take of their song "Wake Up" that was used in the trailer for Jonze's 2009 film Where the Wild Things Are . Karen O provided original music for the film, under the name Karen O and the Kids .
Her is expected to hit theaters on November 20.
Copyright 2013 ABC News Radio