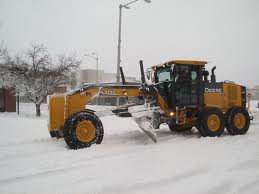 SIOUX FALLS, SD (KELO-AM) Snow removal efforts continue throughout the day today as Sioux Falls sees its first major snowfall.
City of Sioux Falls snow removal crews worked throughout the night to prepare streets as much as possible for the morning commute. A full complement of sanders and motor graders were in place, and additional contractors began working this morning to clear emergency snow routes.
"Usually, the majority of a snowfall occurs overnight. This snow continued to fall through the morning commute, which creates the biggest challenge," says Mark Cotter, Director of Public Works. "When this happens, the plows share the roads with commuters, and if one car, bus, or truck spins out, it has a ripple effect on everyone, including snowplow teams."
City teams are able to clear all the emergency routes every two hours and will continue clearing these streets until the snow moves out of the area.
A snow alert has been declared. All vehicles parked on emergency snow routes are subject to immediate ticketing and towing. Plowing in Zone 3 will begin this morning after emergency routes have been cleared. In Zone 2, plowing of east/west streets will begin at 8 p.m. today. Plowing of north/south streets will begin at 8 a.m. tomorrow.