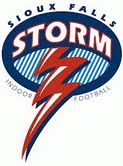 Sioux Falls, SD (KWSN)- Cory Johnsen, an 8 year veteran of the Sioux Falls Storm, has re-signed with the defending IFL Champions for a ninth season. Johnsen will once again anchor the Defensive Line at the nose guard position. Over his first 8 seasons with the Storm, the team carries a record of 115 wins to just 19 losses, and 6 championships.
"Cory has dropped over 50 pounds with an impressive off season program and we expect him to be as dominant as ever", said Storm Owner, Todd Tryon.
At the nose guard position, Cory has proven to be one of the most dominant in the league. He has accumulated 31 sacks, 169 tackles (66 for loss), and has caused a lot of issues for opposing offenses up the middle.
Courtesy: Sioux Falls Storm