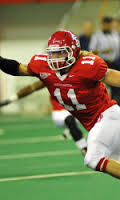 VERMILLION, S.D.(KWSN)—South Dakota linebacker Tyler Starr was named to the first team of the Beyond Sports Network All-America team as announced by the organization Thursday. The 2013 BSN All-America Team was chosen by college sports information directors, college coaches and BSN staff. Starr is one of four linebackers selected to the first team.
Starr, a finalist for the 2013 Buck Buchanan Award and the Missouri Valley Football Conference Defensive Player of the Year, finished his career as the nation's active leader in forced fumbles with 13. He was also second in solo tackles for loss with 39 and fourth in total sacks with 27. He earned those achievements in just three years of play.
This season, Starr led the MVFC in sacks (9.0), tackles for loss (15.0) and forced fumbles (4). He finished second on the team in tackles with 71. He also had an interception and was credited with four pass breakups.
Starr had at least six tackles in each of his last eight games. He registered at least two sacks three times. He had a season-high eight tackles, two sacks and three tackles-for-loss in a win against Missouri State and got his first collegiate interception against Western Illinois.
Starr is a native of Little Rock, Iowa. He is majoring in recreation with a minor in coaching.
Courtesy: University of South Dakota