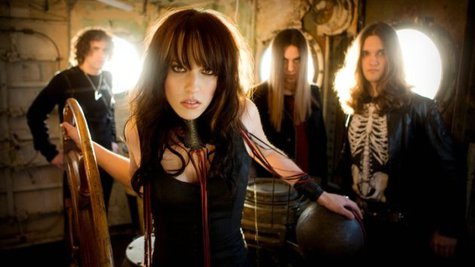 Halestorm is itching to write some new tunes for their next album. Drummer Arejay Hale says the band is looking forward to getting back into the studio next month, which seems to be the best place for the group to focus on penning new material.
"With all the touring we've been doing we really haven't had a chance to all sit down and write together as a band," Hale tells Billboard . "It's kind of tough on the road because our days are pretty swamped and it's hard to get into that creative mentality. We're focused on performing and the shows and not quite as consumed with the writing process."
Hale adds the band has a deadline in mind for the release, which they hope will help motivate them to write quickly. "We're gonna go in and have the mentality of 'It's crunch time, we've got to write an album'," he notes. "We'll all sit down and if we get excited about something we're gonna chase it."
Halestorm's previous release, 2012's " The Strange Case of... " peaked at #15 on the Billboard 200 albums chart its first week out. The album's first single, "Love Bites (So Do I)," scored the band a Grammy Award for Best Hard Rock/Metal Performance.
Copyright 2013 ABC News Radio