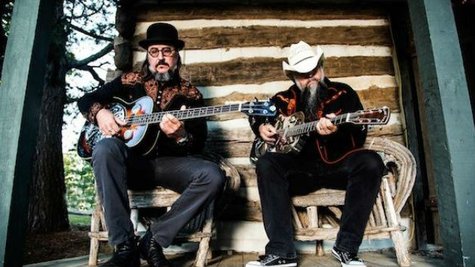 Primus frontman Les Claypool is taking his new project, Duo De Twang , out on the road in 2014. The band has scheduled a series of tour dates to promote the group's debut album, Four Foot Shack .
The North American outing kicks off on January 7 at the House of Blues in Orlando, FL, and will make stops in New York, Charlottesville, Detroit and Indianapolis, among other cities.
Four Foot Shack will arrive at all the usual outlets on February 4. The upcoming album includes one new track, along with a variety of covers from Claypool's own catalog and cuts from Alice in Chains , The Bee Gees , and late country singer/songwriter Jerry Reed . You can check out a stream of Duo De Twang's cover of Primus ' hit, "Jerry Was a Race Car Driver," at ATO Records' Soundcloud page .
Here are the tour dates:
1/7 -- Orlando, FL, House of Blues
1/8 -- St. Petersburg, FL, State Theater
1/9 -- Ft. Lauderdale, FL, FL Revolution
2/27 -- New York, NY, The Heath at McKittrick Hotel
2/28 -- Woodstock, NY, Bearsville Theater
3/1 -- Cambridge, MA, The Sinclair
3/3 -- Charlottesville, VA, Jefferson Theater
3/4 -- Millvale, PA, Mr. Smalls Theatre
3/6 -- Kent, OH, The Kent Stage
3/7 -- Detroit, MI, Majestic Theatre
3/8 -- Indianapolis, IN, The Vogue
Copyright 2013 ABC News Radio