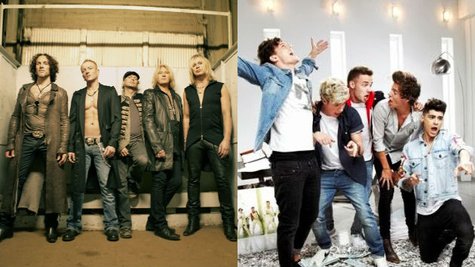 It seems like boy band One Direction is getting a reputation for releasing singles that sound like tunes by famous classic rock acts. The latest song in question is "Midnight Memories," the title track to the group's new album, which many people have noticed bears a number of similarities to the Def Leppard classic "Pour Some Sugar on Me." In fact, U.K. newspaper The Mirror ran a report suggesting that the veteran rockers were considering taking legal action against the young quintet, but Def Leppard guitarists Phil Collen and Vivian Campbell tell Billboard that's not the case.
While Leppard may not be interested in suing One Direction, Collen agrees that the new song is "very similar in structure" to "Pour Some Sugar on Me." Campbell, however, points out that both tunes feature a very common "one-four-five" chord progression.
"Those are the blues," he explains. "You don't get more basic than that." Campbell adds that several other elements of "Midnight Memories" are more specifically "reminiscent of the Leppard thing [including] the production, the sound, the vocals, the reverb and the way it's assembled."
Campbell says he finds it "very flattering" that young artists are considering the sound associated with his band to be cool.
Earlier this year, another controversy emerged when a rumor was started online -- and was subsequently fueled by the British press -- claiming that The Who was planning to sue One Direction over their hit "Best Song Ever," because its intro was similar to the rock legends' classic 1971 tune "Baba O'Riley." However, as in the case of Def Leppard, The Who's Pete Townshend , who wrote "Baba O'Riley," came forward to insist his band had no intention of suing One Direction.
Speaking with Uncut magazine about "Best Song Ever," the Rock and Roll Hall of Famer declared, "I like the single. I like One Direction. The chords I used and the chords they used are the same three chords we've all been using in basic pop music since Buddy Holly , Eddie Cochran and Chuck Berry made it clear that fancy chords don't mean great music -- not always."
Additionally, fans and critics have noted that the opening riff of One Direction's "Live While We're Young" sounds an awful lot like the opening riff of the 1981 The Clash classic, "Should I Stay or Should I Go."
Copyright 2013 ABC News Radio