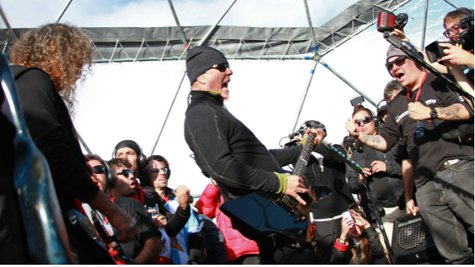 Metallica 's entire Freeze 'Em All concert that took place in Antarctica earlier this month is now available as a high-definition video stream on the band's YouTube channel.
Held inside a dome located near the heliport of Antarctica's Carlini Scientific Base, the Freeze 'Em All show lasted more than an hour and featured 10 songs, among them "For Whom the Bell Tolls," "Master of Puppets" and "Enter Sandman."
Early on, frontman James Hetfield tells the small, enthusiastic crowd that "it's been a dream of ours for a long time to play all seven continents, and you're here to make the dream come true for us." He then dedicates the grinding "Sad But True" to the fans' grandchildren, "because they'll be hearing this story one day."
Metallica previously announced that download purchases of the Freeze 'Em All show are available via LiveMetallica.com .
Copyright 2013 ABC News Radio