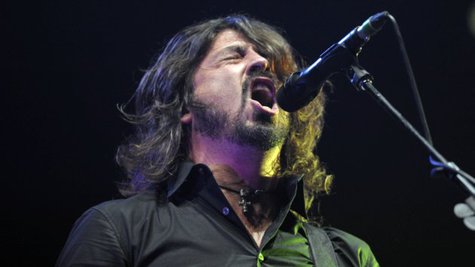 In his new documentary, Sound City , Foo Fighters frontman Dave Grohl created an environment where a wide variety of musicians could get together and spontaneously create new music. Speaking to movie critic Peter Travers on ABC's Popcorn , Grohl says that one of the biggest highlights of that process was getting legendary singer/songwriter Paul McCartney to jam with the surviving members of Nirvana .
"The day that Paul McCartney came to the studio, [bassist] Krist Novoselic and [guitarist] Pat [ Smear ] who played with me in Nirvana, they didn't know Paul and we didn't have a song," he explains. "By the end of the day, we had this thing that, had no one ever heard it, it still would have been the coolest f**king song I'd ever recorded because it was that moment. Capturing those moments, whether it's just to tape or whether it's on film, that's the challenge."
Grohl notes he feels that the film's message is best explained in the opening monologue, because it's one that every artist in the film can identify with. "The intro where I say, 'We were just kids but we had these songs and we had these dreams and we just threw it into the back of an old van and started driving,'" he explains. "That can apply to every single musician in the film and it's exactly that that ties all of us together in the story of Sound City ; that we're just kids that grew up loving music and, you know, look at us now."
Sound City is now available at all digital retailers. The film's soundtrack, Sound City -- Real to Reel , will arrive at all the usual outlets on March 12.
Copyright 2013 ABC News Radio