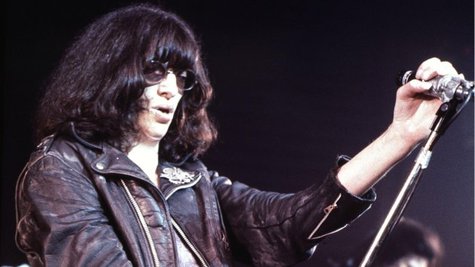 Want to own Joey Ramone 's vinyl copy of Led Zeppelin 's Houses of the Holy ? You'll get your chance as the late Ramones frontman's personal vinyl record collection is going up on the auction block.
A total of 97 records in their album sleeves will be sold together in one lot, which includes records by Zeppelin, The Who , Cream , Bob Dylan , The Human League , Iggy Pop and The Doors , among others. The records are listed as being in "overall very good to fine condition, with various scattered creases and small tears to sleeves." The winner of the auction will also receive a letter of authenticity signed by Joey's brother, Mickey Leigh . Bidding for the collection begins on Thursday and will run through February 21.
Other items owned by Ramone, including his passport, two guitars, a Rolodex of music contacts and various pieces of clothing will be auctioned off as well. Visit RRAuction.com for more information.
Joey Ramone died on April 15, 2001, after a battle with lymphoma. He was 49.
Copyright 2013 ABC News Radio