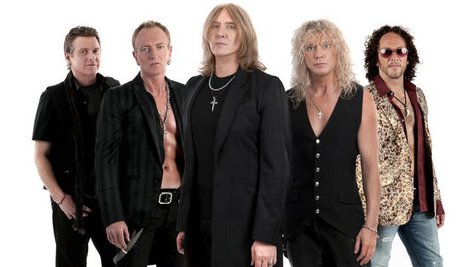 Def Leppard is set to treat some lucky fans to a once-in-a-lifetime musical experience when the band participates in a new edition of Rock 'N' Roll Fantasy Camp in Las Vegas. The event will be held from April 4 through April 7, during the rockers' Viva Hysteria! residency at Sin City's The Joint at Hard Rock Hotel & Casino.
The group's entire lineup -- singer Joe Elliott , guitarists Phil Collen and Vivian Campbell , bassist Rick Savage and drummer Rick Allen -- will be on hand to help mentor the campers, teach them how to play some of their classic tunes and even jam with the attendees. The band members also will take part in Q&A sessions, along with their album producer, sound engineer and tour manager. Campers also will get to attend one of Def Leppard's Vegas performances.
In addition, several other well-known rockers have signed on as counselors, including Lita Ford , Grand Funk Railroad /ex- Kiss guitarist Bruce Kulick , former Dio / Black Sabbath drummer Vinny Appice and longtime Beach Boys touring guitarist Billy Hinsche .
To find out more about Def Leppard's Rock 'N' Roll Fantasy Camp extravaganza, visit RockCamp.com .
Copyright 2013 ABC News Radio