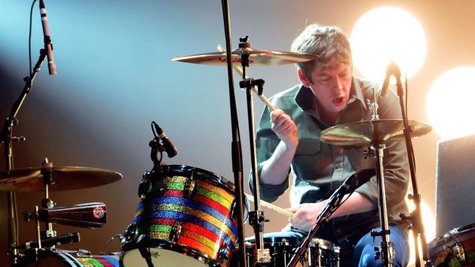 Patrick Carney had some fun with Justin Bieber fans over the weekend. On Saturday, The Black Keys drummer renamed his Twitter account page to read "Justin Bieber Carney" and changed his profile picture to a photo of the young pop star wearing a pair of black glasses similar to those that Carney wears.
The alteration inspired scores of Bieber fans to tweet criticisms of Carney, which he immediately retweeted along with brief, humorous responses.
"Stop you're not funny at all just plain annoying," tweeted one Belieber to Carney, while another wrote , "you're a grown man picking fights with teens...on twitter. Do you realize how pathetic that is?" Yet another said , "Grow the f**k up. you're just showing how embarrassed you are to be part of what you are today."
Carney kept the renamed Twitter page up throughout the weekend, but changed it back late Sunday night.
The feud between Carney and Bieber fans began Grammy weekend when The Keys drummer was caught on camera by TMZ saying that Bieber didn't deserve to win a Grammy Award because "he's rich."
Copyright 2013 ABC News Radio