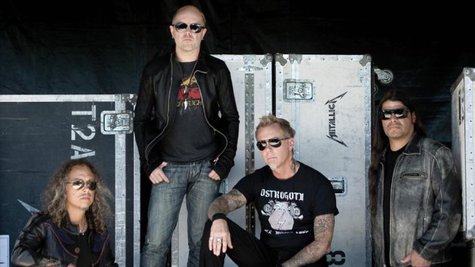 Metallica has revealed the lineup for the second edition of their Orion Music + More Festival, which takes place June 8-9 at Belle Isle Park in Detroit, MI.
More than 30 bands will take the stage at the fest, including headlining sets by Metallica, Red Hot Chili Peppers , Rise Against , Deftones and Bassnectar . Other bands set to perform include Silversun Pickups , Dropkick Murphys , Gogol Bordello , and Foals .
"Last year's Orion Music + More Festival was hands down the highlight of the Metallica calendar," said drummer Lars Ulrich in a statement. "The fact that it also resonated with enough of our fans and friends that it warrants another go-around in '13 is beyond exciting. I can think of no better place than the Motor City, with its rich and diverse history of music, for the second ride on our Orion festival train."
In addition to the performances, the festival will once again offer up attractions curated by members of Metallica. Fans will get the chance to check out frontman James Hetfield 's custom car and motorcycle show, watch movies in the Hit the Lights film tent with Ulrich, and experience guitarist Kirk Hammett 's extensive horror memorabilia collection in Kirk's Crypt. A Metallica museum will also be featured on the festival grounds.
Fan club pre-sales for the festival begin Tuesday at 10 a.m. ET and will run through Thursday, with two-day passes starting at $150. The public will get access to the tickets on Friday at 10 a.m. ET. Visit OrionMusicandMore.com to buy tickets.
Copyright 2013 ABC News Radio