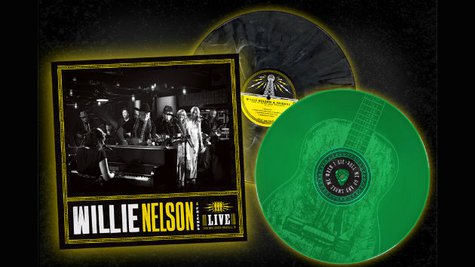 Here's a big reason to become a member of Jack White 's Third Man Records subscription series, The Vault . The 17th installment of the series will include an album of live tracks recorded during country legend Willie Nelson 's star-studded 80th birthday concert, which took place on April 18 at Third Man Records in Nashville, TN.
Titled Willie Nelson & Friends Live at Third Man Records , the 12-song set includes performances of Nelson singing a number of his classic hits with White, Neil Young , Sheryl Crow , Leon Russell , Jamey Johnson , Ashley Monroe and Norah Jones .
Vault subscribers will also receive a six-inch vinyl record featuring Nelson and White performing "Red Headed Stranger" together in Third Man's Voice-O-Graph Recording Booth. A double-sided poster sporting pictures of Nelson and the Third Man Records logo will also be included in the package, along with a Third Man Records branded sticker, lapel pin and record topper.
Vault package #17 will be available to all subscribing members until July 31. Here's the track list for Willie Nelson & Friends Live at Third Man Records :
"Roll Me Up"
"Angel Flying Too Close to the Ground" (with Ashley Monroe)
"Blue Eyes Crying in the Rain" (with Ashley Monroe)
"Funny How Time Slips Away" (with Norah Jones)
"I Gotta Get Drunk" (with Norah Jones)
"Sail Away" (with Neil Young)
"Long May You Run" (with Neil Young)
"Far Away Places" (with Sheryl Crow)
"Whiskey River" (with Neil Young, Ashley Monroe, Sheryl Crow, Norah Jones, Jamey Johnson)
"A Song for You" (with Leon Russell)
"Heartbreak Hotel" (with Leon Russell)
"Red Headed Stranger" (with Jack White)
Copyright 2013 ABC News Radio