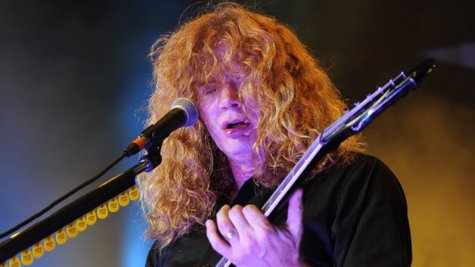 Dave Mustaine will be making a few pit stops during Megadeth 's Gigatour outing to hang out with some fans. The singer has announced that he'll be appearing at a few Guitar Center locations to take part in a special meet-and-greet event where he'll sign autographs for those in attendance.
Mustaine will be at Guitar Center Dallas in Dallas, TX on July 12; Guitar Center Oklahoma City in Oklahoma City, OK, on July 16 at 5 p.m.; and Guitar Center Brookfield in Brookfield, WI, on July 19. The events will begin at 5 p.m. each night.
While Megadeth's in Oklahoma City, the band will also participate in a fundraiser to help those affected by the deadly tornadoes that ripped through Moore, Oklahoma in May. The guys will be playing in an all-star softball game at the ASA Hall of Fame Complex in Oklahoma City on July 15. Fans who attend the game will be asked to make a $5 donation, which benefits the Regional Food Bank of Oklahoma.
Megadeth will also donate all the proceeds from their July 16 Gigantour concert at the Zoo Amphitheatre in Oklahoma City to the Regional Food Bank of Oklahoma.
Copyright 2013 ABC News Radio