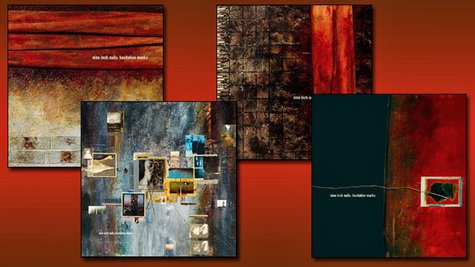 Nine Inch Nails has revealed that their upcoming album, Hesitation Marks , will have a different cover depending on which version of the release you buy. A total of four unique covers were created by longtime collaborator Russell Mills, who had previously designed artwork for NIN's 1994 album The Downward Spiral and several other releases from that period .
"This renewed collaboration very quickly suggested massive potential for the strange and the familiar to collide and collude in works that I hoped would encapsulate, by allusion, suggestion, metaphor and association, the conceptual ideas imbued in the album as well as in the undertow of its sonic world," says Mills in a statement. "I've tried to make works that obliquely allude to the essence of the subject matter, to its emotional core. I hope that they will invite multiple readings."
The mixed media pieces featured on the album covers were made using traditional materials like oils and acrylic paints with sundry objects that are subjected to a variety of processes, including burning, bleaching, calcification and erosion.
Hesitation Marks will be released on September 3. The digital version features a Mills piece called "Turn and Burn," while the artwork on the vinyl cover is titled "Other Murmurs." In addition, the artwork on the standard CD release is a piece called "Time and Again," while the deluxe features a piece called "Cargo in the Blood." You can view all the covers at NIN.com .
Copyright 2013 ABC News Radio