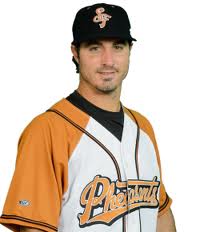 Sioux Falls, SD (KWSN)- It was time. That's the decision that former Canary/Pheasant Joe Anthonsen came to over the past weekend when he announced his retirement from professional baseball.
Anthonsen was a big part of the teams success during his time in Sioux Falls. He provided the offensive spark for three consecutive years as the team's leadoff hitter. In his first two seasons, Anthonsen collected 116 and 125 hits respectively with on-base percentages above .400. He ranks fourth all-time with 335 hits, holds a career .294 batting average, and is the career leader for walks with 180.
Even though he played the bulk of 2011 at shortstop, Anthonsen has played more games at second base than any other infielder in team history. He is the career leader in fielding percentage, putouts, assists, total chances and double plays. In 2010, Anthonsen's sure-handed glove set team and league single-season records for putouts, assists and double plays by a second baseman.
Joe joined Sports Talk w/ Craig and Chris Wednesday and talked about his retirement and more.
He had played in 14 games earlier this year with the Amarillo He was named to Canaries/Pheasants all time second baseman last summer.
Courtesy: Sioux Falls Canaries