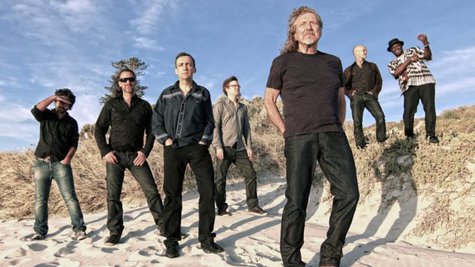 Robert Plant is gearing up for his first full U.S. tour with his new band The Sensational Space Shifters , which kicks off June 20 in Dallas. The group's material finds the Led Zeppelin legend veering away from the Americana influences he explored in recent years with Alison Krauss and Band of Joy and back toward the more eclectic mix of sounds delved into by his early-2000s group The Strange Sensation .
"I decided that I wanted to get back to something resembling a 'British condition,'" Plant explains in a new interview with LA Weekly . "I looked back at the Strange Sensation lineup…We decided to get together to try something out."
The Sensational Space Shifters actually features most of the members of the Strange Sensation along with an accomplished West African musician named Juldeh Camara . The outfit blends hard-edged blues, spacey psychedelic rock, world music and electronica.
"The guys I work with in the U.K. have more of an urban British thing going on," Plant says, while pointing out that this influence may have something to do with several of the band members hailing from Bristol, England.
"There's something about it that inspires a more techno way…samples, big 'f***k off' drum loops that fry you sometimes," he adds.
The singer admits that while working with American folk and country artists was "an amazing education" for him, the new project allows him to settle back into a comfort zone, particularly because he doesn't have to focus on singing harmonies as much.
"I'm able to get the 'R.P.' voice back out there again," he notes. "I won't have to worry about [girlfriend and Band of Joy collaborator] Patty [ Griffin ] glaring at me when I f**k up this time!"
Also during the LA Weekly interview, Plant praised fellow Led Zeppelin member John Paul Jones for blazing his own eclectic creative path outside of their famous band.
"I have great respect for him," declares Plant. "He's right in the middle of writing an opera…But he can also play in [hard-rock supergroup] Them Crooked Vultures and play mandolin with [blues artist] Seasick Steve .
Adds Robert, "I've learned that it's good to keep moving and keep smiling!"
The Sensational Space Shifters' U.S. tour is mapped out through a July 27 show in Brooklyn, New York.
Copyright 2013 ABC News Radio