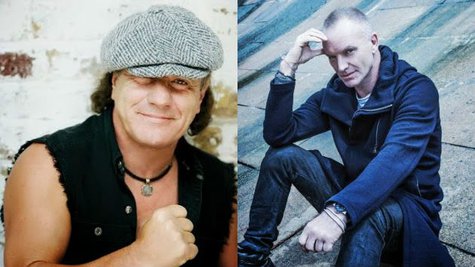 AC/DC 's Brian Johnson and Sting certainly seem like improbable collaborators, but the gravel-voiced rocker will indeed be featured on a project alongside the ex- Police frontman. According to Sting's publicist, Johnson will appear on the singer/bassist's upcoming album, The Last Ship , which is based the musical of the same name that Sting is preparing to open on Broadway next year.
As previously reported, The Last Ship was inspired by Sting's childhood growing up near a shipyard in England. The story focuses on one family's struggle to survive the decline of the shipbuilding industry in Newcastle, England, during the 1980s.
It's not known if Johnson, who hails from Newcastle, will sing on the album or just lend his distinctive accent to spoken-word passages.
The Last Ship will be released on September 24. It will be available as a 12-song standard CD; a vinyl LP featuring the same tunes; a 17-track, two-CD deluxe set; and a 20-song super deluxe package.
Copyright 2013 ABC News Radio