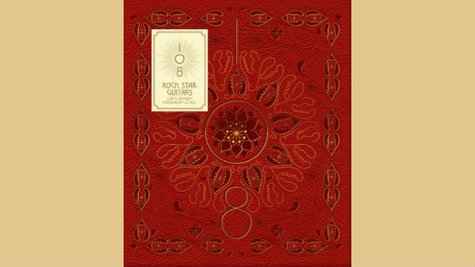 A new coffee-table book featuring images of many of the world's greatest rock musicians' guitars will be published on September 16. As its title suggests, 108 Rock Star Guitars features photos of instruments belonging to 108 rockers, including such legends as Jack White , Dave Navarro , Slash , Soundgarden 's Kim Thayil , Rage Against the Machine 's Tom Morello , Dave Mustaine , Jimmy Page and Ace Freely .
The 396-page book was compiled by photographer Lisa S. Johnson , who began the project 17 years ago when she snapped pics of Les Paul 's guitar during one of the late, great music innovator's famous shows at New York City's Iridium club. She also contributes recollections and commentary about her experiences photographing the various instruments and meeting their famous owners. In addition, the book includes a foreword penned by Paul shortly before his death in 2009.
108 Rock Star Guitars is priced at $108 and features a high-quality red leatherette binding. It also comes with a black guitar pick boasting one of three holographic designs and a 16-page booklet featuring Johnson explanation of what inspired the project. A limited-edition version, hand-signed and numbered by the author, also will be available. Costing $540, the deluxe volume will be packaged in a specially designed box, and will feature a hand-woven silk scarf as well as a guitar pick and booklet.
To check out the full complete list of artists whose guitars appear in the book, visit 108RockStarGuitars.com . Both versions of the book can be pre-ordered now at the website.
Copyright 2013 ABC News Radio