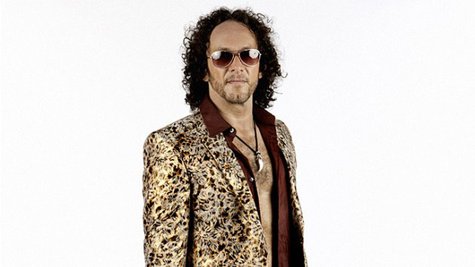 Fans who attend Def Leppard upcoming concerts may notice that Vivian Campbell isn't sporting his usual flowing mane of hair. That's because the guitarist has just revealed he was recently diagnosed with Hodgkin's lymphoma and is undergoing chemotherapy treatments, which caused him to lose his hair.
"I feel fortunate that my cancer sent me an alarm call in the form of 'the cough that wouldn't quit,'" Campbell said in a statement. "After several months of trying every inhaler known to man, my doctor finally had me X-rayed. My diagnosis was Hodgkin's lymphoma and 6 months of chemotherapy is the prescribed treatment."
Campbell adds that while he's about two months into his cancer treatment, he's "feeling rather spiffy" and is looking forward to the band's upcoming summer tour. "My family, friends and band mates have all been extremely supportive through this and I look forward to a summer full of shows with both Def Leppard in June/July and the debut of [side project] Last in Line this August."
Def Leppard will kick off their summer tour on June 21 with an appearance at Hellfest in Clisson, France. Visit DefLeppard.com to view the full itinerary.
Copyright 2013 ABC News Radio