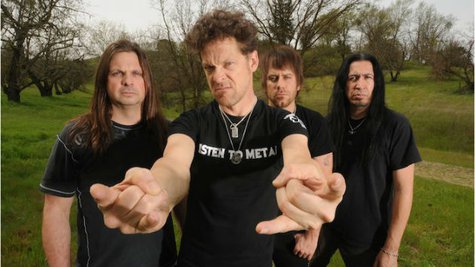 Newsted 's upcoming debut album, Heavy Metal Music , won't hit stores until August 6, but fans can hear a little preview of the release now. The band is offering a free download of " Heroic Dose ," the first cut on the upcoming release, on its website.
Heavy Metal Music includes 11 new tracks, which former Metallica bassist Jason Newsted says features a positive message. "The thread that goes through the lyrical content is about standing up for yourself, being true," he recently told Rolling Stone . "It's all up stuff, and I get to say this from the microphone now as the frontman. I get to spread positive vibes instead of trying to out-grimace people. I already did that."
You'll get your chance to hear the new songs when the group hits the road on Megadeth 's traveling Gigantour festival, which kicks off on July 3 at Meadowbrook in Gilford, NH. In addition to a headlining set by Megadeth, the event will feature performances by Device , Black Label Society , HELLYEAH , and Death Division . Visit Gigantour.com to view the full itinerary.
Here's the track list for Heavy Metal Music :
"Heroic Dose"
"Soldierhead"
"...As the Crow Flies"
"Ampossible"
"Long Time Dead"
"Above All"
"King of the Underdogs"
"Nocturnus"
"Twisted Tail of the Comet"
"Kindevillusion"
"Futureality"
Copyright 2013 ABC News Radio