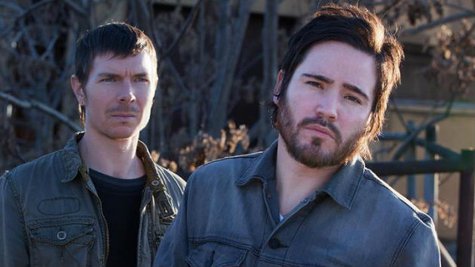 Middle Class Rut continues to get serious love on the active and alternative charts thanks to " Aunt Betty ," the first single from their recently-released debut album, Pick Up Your Head . Frontman/guitarist Zack Lopez says that while he has an Aunt Betty in his family, the track wasn't inspired by her.
"She's been around for a few years," he tells ABC News Radio. "Never in a million years would I have thought I'd see the name Aunt Betty plastered on CDs and posters, so it's pretty bizarre in that sense, but…she's always shown up in our lives here and there. She's just this constant weird spirit that floats with us."
Drummer Sean Stockham adds that the song came together spontaneously, as did all the cuts the group created for Pick Up Your Head . "These songs were written over the course of a year and a half," he explains. "Similar to our first record, a lot of these songs accidentally became the record. I don't think anybody ever sat down and said, 'Okay I'm writing this for the next album.' [Zack] just was just writing all this crazy stuff that really didn't sound like our band, some of it."
Middle Class Rut is currently out on a headlining tour to promote Pick Up Your Head . If you miss your chance to see them on that outing, you'll get another opportunity when the group hits the road with Alice in Chains , Jane's Addiction , Coheed and Cambria and Danko Jones for this year's installment of the Rockstar Energy Uproar Festival. That traveling festival kicks off on August 9 at the Toyota Pavilion at Montage Mountain in Scranton, Pennsylvania. Visit RockstarUproar.com to view the full itinerary.
Copyright 2013 ABC News Radio