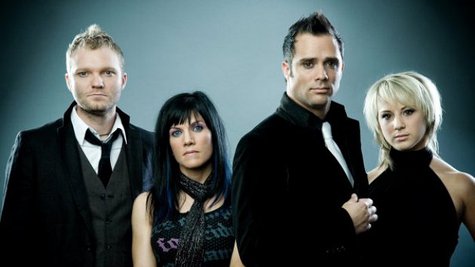 If you can't wait to hear Skillet 's ninth studio album, Rise , you're in luck. The group has posted a stream of every song from the recently-released album at Billboard.com .
Frontman/bassist John Cooper says that Rise is a concept album that focuses on the coming-of-age story of a "typical American teenager" who's struggling to find his place in the world. "He's coming into adulthood and he's faced by the horrors that we see every day -- floods, bombings, earthquakes, school shootings," Cooper tells Billboard . "He's also faced with his own problems from his family life. It's about his path to salvation, and wanting to be significant in some way."
You'll get your chance to hear the new Rise tracks performed live when the band hits the road for the Carnival of Madness Tour, which kicks off on August 13 at the Jacobs Pavilion at Nautica in Cleveland, Ohio. Other bands set to take the stage at the event include Shinedown , Papa Roach , In This Moment and We as Human . Visit CarnivalofMadness.com to view the full itinerary.
Copyright 2013 ABC News Radio