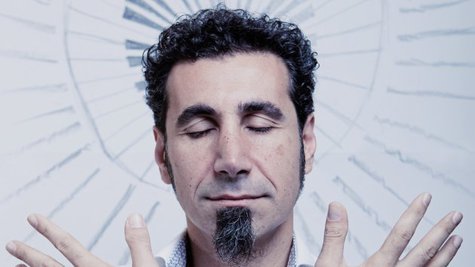 Serj Tankian believes in happy accidents. The System of a Down frontman says that he decided to create his classical symphony, Orca , after a chance meeting with one of his friends.
"When I was writing [my 2010 solo album] Imperfect Harmonies years ago, I ended up with the first two acts of Orca by accident," he tells ABC News Radio. "I was sitting down listening to them and then a friend of mine from TV was sitting listening to the tracks and he said, 'Dude, that's your first act of your symphony.' So I came up with the symphony. It sounds quite simple but it was a long, long process to make it as perfect as possible."
On Tuesday, Tankian released a live recording of Orca which was performed with the Das Karussell Orchestra in Austria on October 28, 2012. The singer notes that while he had some reservations about recording a live performance of the piece, he was thrilled with the way it turned out.
"There's always that nervousness of wanting things to be perfect, and they're never perfect obviously, but with orchestras they're professional musicians," he explains. "They get it done pretty quick, so we're very lucky to work with the people that we did in Austria and get this recorded."
The singer adds that while he has a number of European dates scheduled for Orca to be performed, he would like to bring the symphony to the U.S. sometime in the near future. "We are planning to do something in the states but we don't have anything etched in yet," he reveals. "We're doing about 15 shows in Europe and Russia and we're doing that in September, October. I want to do more shows in the U.S. with Orca , we just have to find the right opportunities and right promoters to get it done."
Copyright 2013 ABC News Radio