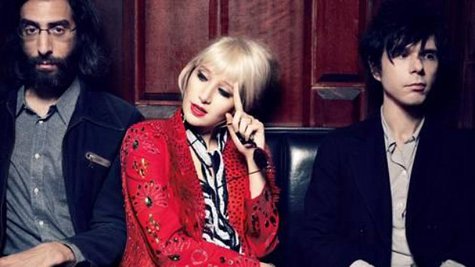 Frontwoman Karen O has revealed that she almost quit Yeah Yeah Yeahs while they were recording their second album, 2006's Show Your Bones .
"[Quitting] crossed my mind a lot of times," she tells Billboard . "[Guitarist] Nick [ Zinner ] and I were on really bad terms. We were forced to support the record, and we had to be around each other a lot -- at the shows, on the bus." The singer says that spending large amounts of time on tour together "was like alchemy" that eventually helped the two resolve their personal issues.
O adds that the band's upcoming fourth album, Mosquito , will bring back some much needed attitude to today's rock music. "When we came up, there was The Jon Spencer Blues Explosion and The Make-Up ," notes the singer. "Where has all the charisma and the sexuality and the gnarl gone? [ Mosquito ] is about bringing that back into the fray."
Mosquito will arrive at all the usual outlets on April 16. Yeah Yeah Yeahs are touring in the spring and will perform at this year's South by Southwest music festival, which runs March 12-17 in Austin, Texas. For the full list of tour dates visit YeahYeahYeahs.com .
Copyright 2013 ABC News Radio