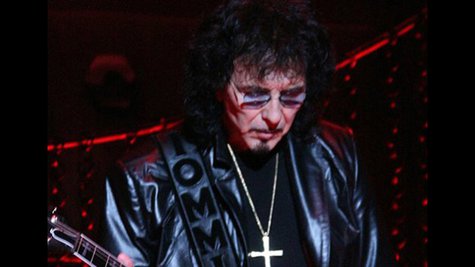 Tony Iommi has written a rock ballad for Armenia's entry in the annual Eurovision Song Contest. The Black Sabbath guitarist gave the song, titled "Lonely Planet," to the Armenian band Dorians , who will put their spin on it in the annual competition.
Iommi tells the BBC that he was initially a little reluctant to get involved. "I first said, 'oh God, I don't know' -- it seemed really strange, me doing a Eurovision song, I don't usually do that but [then] I said, 'I've got a rock ballad, I'll send it over.'"
Tony Iommi has a long-standing alliance with Armenia. In 1988, he and former Sabbath bandmate Ian Gillan visited the country following a devastating earthquake and helped produce an album to provide aid. In 2011, the pair released two more songs to help raise money for an Armenian school. Tony Iommi also has a collection of rare Armenian swords.
The Eurovision Song Contest is an annual song competition that's over a half-century old, drawing from 51 of the member countries in the European Broadcasting Union. Each country submits one song to be performed live on TV and radio, and then votes for another country's song. This year will be the 58th annual competition, making the contest one of the longest-running television programs in the world.
The theme of this year's Eurovision contest is "We are one."
Copyright 2013 ABC News Radio