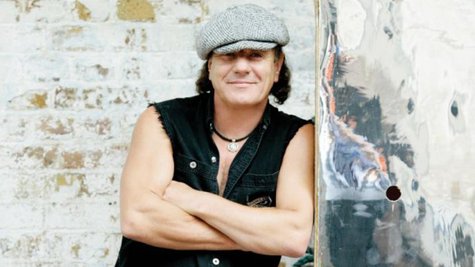 AC/DC 's Brian Johnson says he didn't know about the band's most recent album, 2012's Live at River Plate , until it had already been released. Speaking recently with ABC News Radio, the singer admitted, "To be quite honest, I got a surprise when it came out. I think they forgot to tell me or something. Somebody just phoned us up and said, 'I got your new album,' and I went, 'What album?'"
Johnson added that the reason he was unaware about the record -- which captured the Australian rockers in concert in Buenos Aires, Argentina, while touring in support of their 2008 studio effort, Black Ice -- was that he "was probably too busy doing something else."
As for what the future holds for AC/DC, the frontman told ABC News Radio that the band's next move will be to put out a new studio album rather than another live collection. However, Johnson wasn't willing to estimate how long it might take for the group to finish the forthcoming disc, explaining that he and his band mates like to work at their own deliberate pace.
"We're a bunch of friends rather than musicians," he said. "If I said it was haphazard, I'd be underplaying it. We sort of get together in a room and [guitarists Malcolm and Angus Young ] will just go, 'Hey, I've got some riffs…What do you think?' and it just goes from there."
Johnson added, "Nothing's ever planned, because we have this theory that if you say, right, you're going into the studio in March, immediately you're under pressure. And if you don't say anything, and you just sort of meander towards the studios, and just go, 'Right, we'll start about now, shall we?' it just makes it for a more easygoing time."
Asked whether he had other projects outside of AC/DC on which he was working, the singer reported that while he does sometimes enjoy writing tunes with some of his songwriter friends, he does it "just for the fun of it."
Johnson added, "I never go and try to get them recorded. I know it sounds strange, but I just enjoy writing songs with another good songwriter…It gives a lot of pleasure, you know?"
Brian further pointed out that some friends who've heard these songs have suggested that he take "a few of them…to the record companies," but, he insisted, "AC/DC is my band and that's it."
Copyright 2013 ABC News Radio