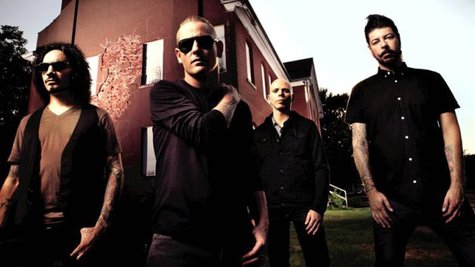 Guitarist Josh Rand says that Stone Sour fans can expect the band to explore some new creative avenues on the second installment of the band's concept double album, House of Gold and Bones Part 2 , due out April 9.
"We take pride in making sure that [ Part 2 ] doesn't sound the same," he tells The Gauntlet . "That's why when people hear Part 2 they will say it is completely different from Part 1 . We have different instrumentation than we have ever done, different sounds and a lot more of being experimental."
While House of Gold and Bones has already inspired a comic book mini-series, Rand adds that the band hopes to begin working on a movie adaptation of the album sometime soon. "We are definitely looking into it," he reveals. "Right now the focus is promoting the record, getting the comic book out there and off of the comic book we will see if someone does the scripts. We will see what happens from there."
Stone Sour will kick off the next leg of tour dates to promote House of Gold and Bones next month. That trek begins on April 2 at the State Theatre in Portland, Maine. In This Moment and Hell or Highwater will support the band on select dates. Visit StoneSour.com for the full itinerary.
Copyright 2013 ABC News Radio