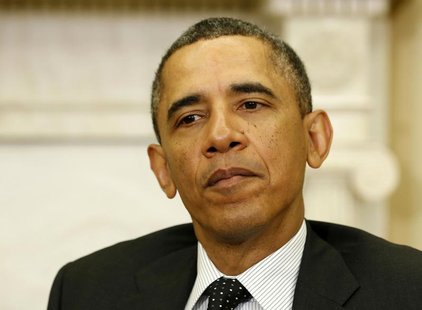 WASHINGTON (Reuters) - President Barack Obama on Wednesday urged cooperation from the Libyan government in the investigation into the September 11 attack on the U.S. consulate in Benghazi as he named a new ambassador to replace the envoy killed in the assault.
Obama met Libyan Prime Minister Ali Zeidan during his first official visit to Washington and expressed support for the North African country's democratic transition after the 2011 ouster of Muammar Gaddafi in a revolt backed by a NATO bombing campaign, the White House said.
"The president reaffirmed his commitment to ensuring that the perpetrators of the September 11 attacks against the U.S. mission in Benghazi are brought to justice, and stressed the importance of Libya's cooperation with the ongoing investigation," said White House spokeswoman Caitlin Hayden.
The White House meeting coincided with the announcement of Obama's choice of Deborah Jones, a veteran Middle East diplomat, as ambassador to Libya.
She was nominated to fill the post, which has been vacant since Ambassador Christopher Stevens and three other Americans were killed in the militant attack in Benghazi six months ago.
Jones, a career diplomat, is a former ambassador to Kuwait and has served at embassies and consulates in Syria, Turkey, the United Arab Emirates and Ethiopia.
Political controversy has lingered in Washington over the initial U.S. response to the Benghazi assault, with Republicans accusing the Obama administration of withholding information and the White House defending its handling of the matter.
(This story corrects day of the week to Wednesday in lead paragraph)
(Reporting By Matt Spetalnick; editing by Christopher Wilson)