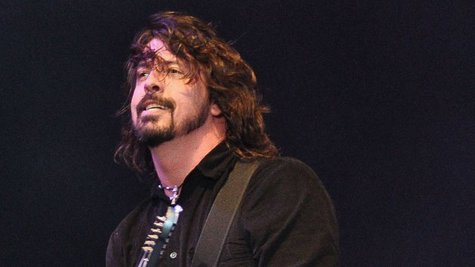 During Dave Grohl 's keynote speech at the South by Southwest festival on Thursday, which is currently streaming at RollingStone.com , the singer spoke at length about some of the artists that shaped his love of music. The Foo Fighters frontman says that while a number of bands have inspired him over the years, it was one track in particular that put him on the path to devote his life to music.
"I have to thank Edgar Winter for allowing K-tel Records to include his legendary instrumental 'Frankenstein' on their 1975 blockbuster compilation," he told the crowd. "It was this record that changed my life."
The singer also spoke with particular passion about his early heroes: The Misfits , Bad Brains , Dead Kennedys and Black Flag . He explains that it was their inspiration than pushed him to pursue a career in music. "It became my religion," he notes. "The record store my church, the rock stars my saints, and their songs, my hymns."
Among the other highlights of the speech was when Grohl explained how he rediscovered his love of music -- which led to the creation of the Foo Fighters -- following the death of his Nirvana band mate Kurt Cobain in 1994.
"When Kurt died, I was lost," he reveals. "The music that I devoted my life to had now betrayed me. I put away my drums. But eventually, the same feeling that made me feel possessed and empowered and inspired and enraged and so in love with music that it had the power to incite a riot or start a revolution, I felt it again."
With his speaking engagement completed, Grohl will join forces with the Sound City Players , a band comprised of some of the artists who appear in his recently-released Sound City documentary, for a special concert which begins tonight at 8:30 p.m. CT at Stubb's in Austin, Texas.
Accompanying Grohl for the concert will be Fleetwood Mac 's Stevie Nicks , John Fogerty , Rick Springfield , Fear frontman Lee Ving , Cheap Trick guitarist Rick Nielsen , Rage Against the Machine drummer Brad Wilk , Slipknot / Stone Sour frontman Corey Taylor , Queens of the Stone Age multi-instrumentalist Alain Johannes and Masters of Reality 's Chris Goss . The Meat Puppets will be the opening act.
Copyright 2013 ABC News Radio