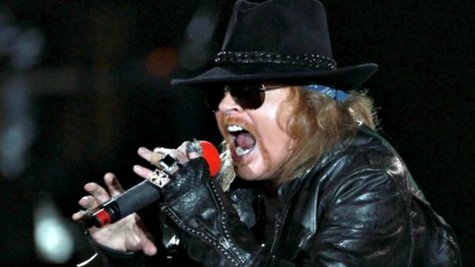 A Guns N' Roses fan in Australia has threatened to take legal action against Axl Rose after he was allegedly struck by the singer's cordless microphone during the band's concert in Perth on Saturday. Speaking with The West Australian , 39-year old Darren Wright says the incident caused significant damage to his two front teeth.
"With the bright lights and explosions, I couldn't see anything," he explains. "The next thing I knew, I was whacked in the mouth. I was quite stunned and it took a few seconds to realize…I could feel bits of teeth in my mouth. Then someone is climbing through my legs to grab the microphone."
Wright adds that while GN'R's tour manager, Andrew McManus , apologized for the incident and offered to give him a microphone signed by Rose for his trouble, Wright would rather the singer pay for his dentist bill, which is estimated at around $5,000.
"In reality, I don't think the microphone is going to fix my teeth or pay for the dentist," he notes. "I'm a father of four on a single income doing it hard in Perth."
Copyright 2013 ABC News Radio