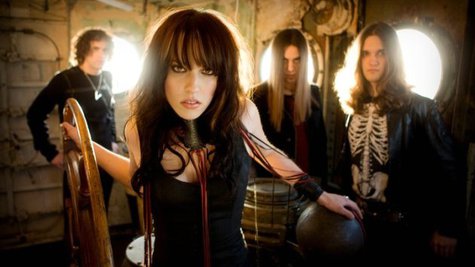 Following in the footsteps of Anthrax and Adrenaline Mob , recent Grammy-winner Halestorm has revealed their plans to release an EP of covers. Frontwoman Lzzy Hale says that the upcoming EP was inspired by some of the 1980s metal tracks that she listened to when she was growing up.
"I had a bit of a dated catalog in my player, thanks to my parents," she tells Metal Shrine . "There's a few unexpected ones [on the EP]...a few things that I didn't think we'd pull off, but I think we did."
Hale notes that while the band recorded seven covers for the project, they're not sure how many will be included on the EP. "We're definitely building each one in our own way," she explains. "Sometimes that's hard, but we learned a lot as musicians by doing that. You can take the 'Oh, is this a good song?' thing out of it because it's already a proven song, so you just have fun and experiment."
While the covers EP doesn't yet have a firm release date, the singer adds that fans can expect to get their hands on it sometime this summer.
Copyright 2013 ABC News Radio