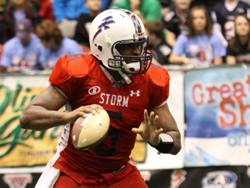 Sioux Falls, SD (KWSN) - The Sioux Falls Storm (2-1) were victorious 67-7 over the Wyoming Cavalry (0-2) on Sunday afternoon in their 2013 home opener. An injury last week triggered a changing of quarterbacks in Sioux Falls giving first year man Dwight Dasher his first start.
Sioux Falls started the game strong as Dasher connected a 30-yard touchdown pass to James Terry and put the Storm up 7-0. Tavron Harrison also added to the first quarter scoring with a 5-yard touchdown of his own to make it 14-0. Defensive linemen Cory Johnson blocked a field goal, which the storm recovered in the end zone to extend their lead to 21. Dasher then passed for two more touchdowns in the second quarter, and added a rushing touchdown giving the Storm a 44-0 lead at the half.
The Storm began the third quarter with a quick 18-yard touchdown pass from Dasher to Mike Tatum. Parker Douglass added to the lead with a 28-yard field goal. Wyoming countered for their first points with a 3 yard touchdown pass from quarterback Kyle Christian to Troy Evans at the end of the third quarter to make it 54-7.
In the fourth quarter, Harrison rushed for a touchdown, and Dasher added the final points for the Storm with a 41-yard quarterback keeper.
Dasher ended the game with 164 yards passing and 4 touchdowns. He also rushed for 138 yards, and 2 rushing touchdowns. This is the Storm's twenty-fifth straight win at home.
The Storm hits the road next week to take on the Colorado Ice on March 24 with a 4:05 kick-off. The Storm's next home game is on April 7, at 3:05 in a United Conference Championship rematch against the Green Bay Blizzard.
Courtesy: Nate Wek - Sioux Falls Storm