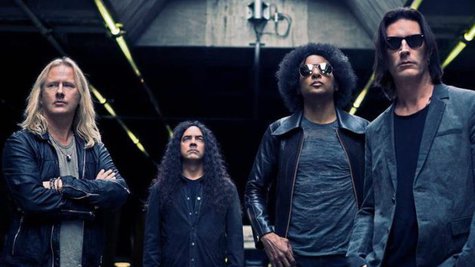 Alice in Chains has announced the release date for their upcoming fifth studio album, The Devil Put Dinosaurs Here . It will arrive at all the usual outlets on May 14.
Guitarist Jerry Cantrell has said that the album will feature some heavier themes than their previous release, 2009's Black Gives Way to Blue . "There's some real filth in there," he tells Rolling Stone . "We're trying to make a record that we dig and we're trying to keep the bar high for ourselves and see if we can get past it, and I think that we did again."
In addition, the band is offering you the chance to check out the cover art for The Devil Put Dinosaurs Here on their website . If you tweet the phrase "#AICalbum," the band will reveal the artwork for their upcoming release. Here's a spoiler for you: It features two heads of a triceratops which seem to form a devil's head.
Here's the track list for The Devil Put Dinosaurs Here :
"Voices"
"Low Ceiling"
"Stone"
"The Devil Put Dinosaurs Here"
"Hollow"
"Lab Monkey"
"Hung on a Hook"
"Pretty Done"
"Breath on a Window"
"Choke"
"Phantom Limb"
Copyright 2013 ABC News Radio