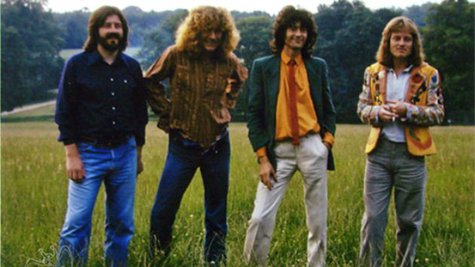 Led Zeppelin 's Jimmy Page and John Paul Jones were in Berlin, Germany, on Thursday to accept the first International Lifetime Achievement Award on behalf of the group at the 22nd annual ECHO awards ceremony. The band was recognized for their "outstanding contribution to music."
Speaking with Euronews during the event, Page noted, "As long as we can be an inspiration, either as a group or individually or whatever... as far as I'm concerned, that is my lifetime achievement: that people will be inspired by the music."
The ECHO awards are handed out by the German music industry to artists who have garnered the greatest record sales.
Led Zeppelin frontman Robert Plant was unable to attend the event because he is currently on tour with his group The Sensational Space Shifters and had a show scheduled that evening in Singapore. Plant has been doing quite a lot of press for the trek, and in an interview earlier this week with Singapore's Today Digital, he addressed the recent remarks he made that seem to suggest that he might open to doing something with his Zeppelin band mates next year.
"Since my funny comments, I've not heard from anybody," he declared. "What do you think of that?"
Last month, during an interview with Australia's 60 Minutes , Plant was asked about the possibility of another Led Zeppelin reunion and responded by saying, "You need to speak to the [Page and Jones], 'cause I've got nothing to do in 2014."
Plant's tour with The Sensational Space Shifters continues on Saturday with the first of a series of Australian shows.
Copyright 2013 ABC News Radio