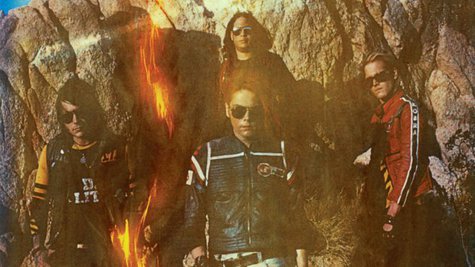 The romance is over for My Chemical Romance . The band has announced that it's calling it quits after more than a decade.
In a statement posted on their website , the group says, " Being in this band for the past 12 years has been a true blessing. We've gotten to go places we never knew we would. We've been able to see and experience things we never imagined possible. We've shared the stage with people we admire, people we look up to, and best of all, our friends. And now, like all great things, it has come time for it to end. Thanks for all of your support, and for being part of the adventure."
My Chemical Romance was formed in 2001 by frontman Gerard Way and drummer Matt Pelissier . Their name was suggested by bass player Mikey Way , Gerard's brother, who'd been inspired by the title of a book by Irvine Welsh called Ecstasy: Three Tales of Chemical Romance. They signed a major label deal in 2003, and released their breakthrough album, Three Cheers for Sweet Revenge , in 2004.
MCR's critically-acclaimed album The Black Parade , released in 2006, further established them as a major act. Their fourth and final studio album, 2010's Danger Days: The True Lives of the Fabulous Killjoys , contained the hit single "Sing," which was even covered on Glee .
During their career, MCR were often labeled as "emo," a term that frontman Gerard Way rejected.
Way had been writing a new comic book series based on Danger Days: The True Lives of the Fabulous Killjoys . Titled The True Lives of the Fabulous Killjoys , the first installment of the series is scheduled to be published by Dark Horse comics on June 6.
Copyright 2013 ABC News Radio