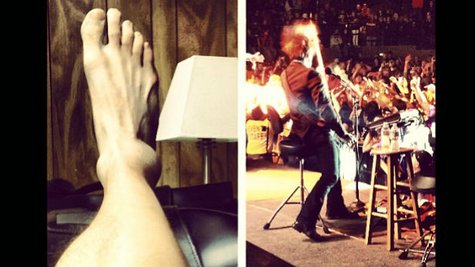 He may be limping a bit but the show will go on for Shinedown bassist Eric Bass , who injured his ankle during the band's current tour with Three Days Grace and P.O.D.
After the band's concert at the Lonestar Pavilion in Lubbock, Texas on Friday night, Shinedown tweeted a picture of Bass's swollen ankle, noting that he has suffered a second-degree sprain.
In a series of tweets that followed, Bass writes that his injury is "only a flesh wound" and that it won't affect his ability to perform. He adds that he will "have to sit down" for the remainder of the band's North American outing, which wraps up on May 10 with an appearance at the Gulfport Music Festival in Gulfport, MS.
Copyright 2013 ABC News Radio