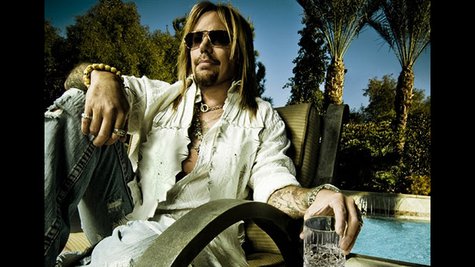 Mötley Crüe frontman Vince Neil and guitarist Tommy Thayer and drummer Eric Singer of Kiss are among the many well-known rockers who will be perform at a series of benefit concerts this week in Sioux Falls, South Dakota. The sold-out shows will celebrate the grand opening of the Brennan Rock & Roll Academy , a facility that offers music-education programs to youngsters in the Sioux Falls area, with a focus on instruments used in rock music.
While the series kicks off on Tuesday with a performance by Night Ranger , Thayer and Singer are scheduled to perform with Alice Cooper , ex- Skid Row singer Sebastian Bach and Warrant guitarist Joey Allen on Thursday night. The celebration will wrap up on Saturday with show featuring Neil and founding Ratt singer Stephen Pearcy , who will perform alongside the '80s rock tribute band Hairball .
Proceeds raised by the shows will be donated to the Boys & Girls Clubs of the Sioux Empire , an organization that provides of variety of services to children in the Sioux Falls region.
"I grew up with the Boys & Girls Club, and have a lot of respect for the work they do in our communities," says the Brennan Rock & Roll Academy founder Chuck Brennan in a statement. "I'm thrilled to share my love for music with kids who would normally not be able to afford to chase their musical passions."
Copyright 2013 ABC News Radio