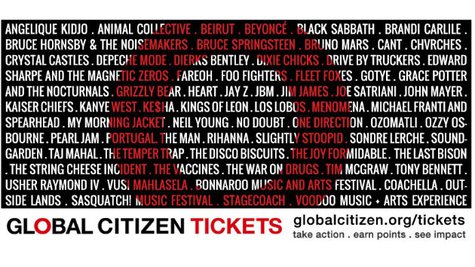 Pearl Jam , Foo Fighters , Kings of Leon and Black Sabbath are among the artists who are participating in a new program which will reward their fans for becoming social activists. The groups are offering up free tickets to fans who sign up for Global Citizen Tickets Initiative, which was designed to help to create awareness around issues related to extreme poverty.
Spearheaded by Pearl Jam manager Kelly Curtis , the program allows fans to earn points for taking a variety of social actions -- like signing petitions or raising money for a designated charity -- in order to get into a lottery for free tickets.
"Pearl Jam is very grateful to be part of such an innovative and generous group of artists and music business leaders participating in this project," says guitarist Stone Gossard in a statement. "It reflects the DNA of our band and business, and expands it to respond to some of the greatest inequities and challenges facing humanity."
Other bands participating in the Global Citizen Tickets Initiative include Soundgarden , Alabama Shakes , My Morning Jacket , Fleet Foxes , No Doubt , Depeche Mode and Grizzly Bear . A number of festivals have also offered up tickets for the program, including the Bonnaroo Music and Arts Festival, Coachella, Outside Lands, Sasquatch! Music Festival and the Voodoo Music + Arts Experience.
Visit GlobalCitizen.org/Tickets for more information.
Copyright 2013 ABC News Radio